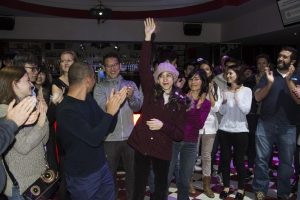 Welcome party for students at the beginning of the new semester is alreadyour tradition at Albertov.  This time Mgr. Marie Poláčková, the director, welcomed students from 35 countries from all around the world and presented all the teachers. Some of the teachers then presented the culture programme which they prepare for students every semester.
Students can look forward to:
student´s concert
student theatre performance in the theater Na Prádle
student works in the half-year book.
student presentations
culture surprise
film lectures
dancing club
find yourself a Czech person
pronunciation class
theatre club
trips
After that the director ivited students to have a lunch and then there was a free programme.